Low Carb Biscuits and Gravy
This is IT!! The best Low Carb Biscuits and Gravy you've EVER EATEN!!
Obviously, we were showing off a little with this setting. The whole idea behind this blog and format is real recipes, real pics, real low carb food. However, I've done these often and they are a really nice – LOW CARB treat. I really have no desire for biscuits and gravy anywhere else – low carb or not, these are my favorites. I hope you like them.
When we do the "full biscuit and gravy thing" – we usually tag team. I do the biscuits and Arlyne does the gravy. She does awesome gravy. In fact, she does a lot of stuff really well. Breakfast is her specialty though.
For the one above we used our Low Carb Biscuit recipe (see below), while she was doing the gravy she reserved some of the sausage off to the side for topping. Once the biscuit was cut in half, we added some butter on each half. We then spread a generous portion of gravy all over it. We topped it with the reserved sausage crumble. Next we tossed a "quickie microwave egg" on there and covered with with some shredded Cheddar. A little Salt and Pepper – and this meal deserved a BLOG POST IN HISTORY!!
We don't normally go to those lengths. Usually – it looks like this…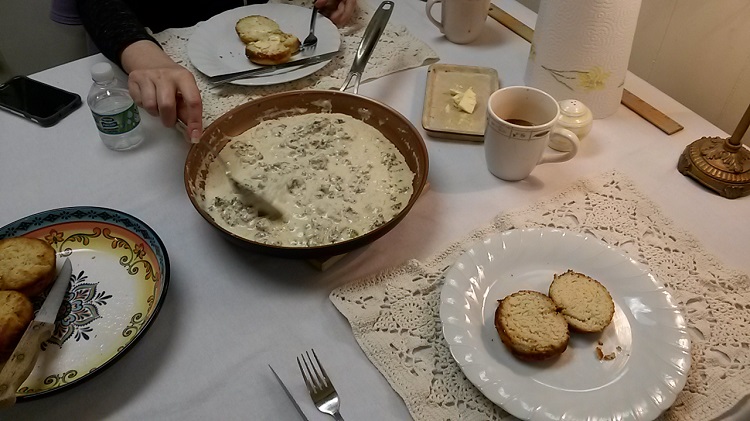 Normally – these are getting eaten so fast – no one has a chance to bother taking pictures – ha ha!!
Tom's Low Carb Diet 7-UP biscuits
2 C CarbQuick – I added 1/2 t Baking Powder to the dry mix (for a low sodium version – you can leave the Baking Powder out – no problem)
1/2 C Sour Cream
1/2 C Diet 7up or Sprite Zero (I have used both…) – I added 3 drops QuickSweet to the pop in a separate bowl
1/4 Cup melted butter
1. Preheat oven to 450 – Toss the butter in either a deep pie pan or a 9×6? pan and let it melt in the oven for a few while the oven preheats (5 min??)
2. Cut Sour Cream into dry mix (fingers).
3. Stir in Pop – working dough some more.
4. Sprinkle counter with a little dry mix (I use Coconut flour – it tastes GREAT, is dusty for folding and kneading and gives the biscuits a great finish).
5. Knead and fold – doesn't take that much… I worked the dough to about 1″ thick (or more) and used a pretty big glass to cut them out… rework the dough and do it again. This makes 4 Cat Head biscuits (because they are as big as a Cat's HEAD).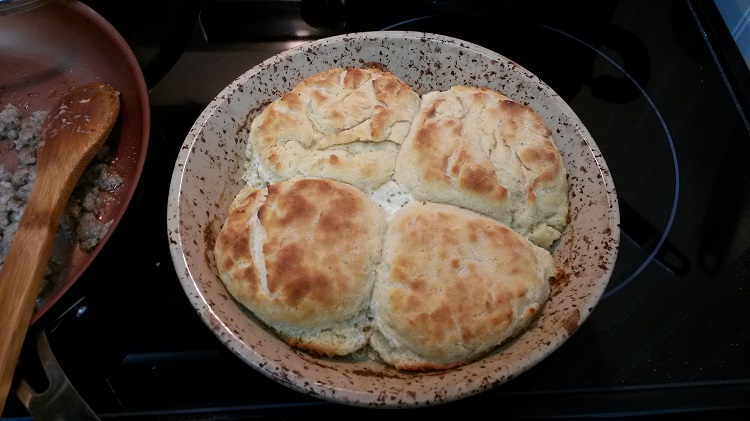 5.a. In another recent twist on this recipe… I bought a giant Muffin tin at Bed Bath and Beyond. It is a 6 holer and the biggest one I could find. Each hole is 3-3/4in across. I make this recipe x 1 1/2. 1 1/2 is the perfect size batch for 6 big biscuits (fills up my pan).
I make the whole batch – roll it into a log – cut it in half… then work each half a little, form them up and cut them into thirds. In the muffin pan I put a pat of butter in the bottom of each port. While the oven is pre-heating I let the butter melt in the oven for about 5 or 6 minutes. Once I take the butter out and the oven is pre-heated… I add the six biscuits to the pan.
6. Put biscuits on top of butter and bake for 12-15 min… they will soak up the butter and be AWESOME!!
Pro Tip: These biscuits tossed in Tupperware and refrigerated keep really, really well. They might even be better the second day than the first. Maybe not, but in any case – they are really good.
7. The Sausage gravy is pretty normal – use 1 lb Sausage and 2-4 T of Carbquick instead of flour – use Heavy cream, Light cream or Half and Half instead of milk.
Final comment: These biscuits work for all kinds of things. Breakfast, lunch, dinner – any day that ends in "y"!! Enjoy.