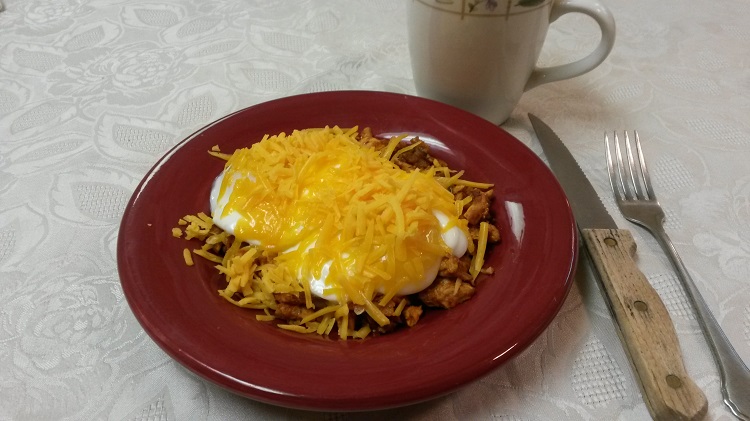 "Daily Meal Rewind" – What did we eat on Tuesday?
Breakfast:
Low Carb "Ranch Eggs" AKA – Huevos Rancheros. I don't think this is the actual pic of that day, but I make this so often, no joke – I accidentally clicked on a pic to add and it landed on this one!! The odds were very good that would happen. I was hungry enough though. I got through with the first two eggs and had some meat left, so I tossed another egg on there.
This is easy to make, almost any kind of Stir Fry, Mexican or spiced meat will work – a  couple of "quickie" microwave eggs on top (or on the stove) and some shredded cheese on top and Voila'!! You have a very flavorful, hearty – yet still very low carb, breakfast.
Lunch: 
Pretty light – but very tasty lunch. I had a bunch of the chicken wings from that bunch of meat I had baked and smoked – these wings had brined off for a bit and then been in the fridge for a couple of days. I was thinking of something to do with them. Simple – chicken wings for lunch.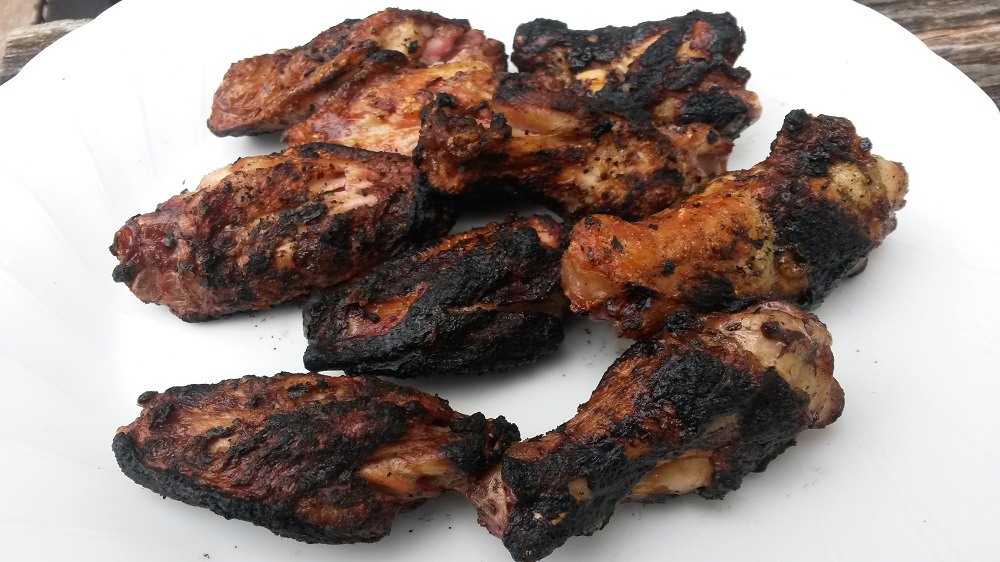 Really simple – Chicken wings, cut into pieces. They had been in that brine recipe as noted earlier. Fire up the gas grill – spread these little buggers out and keep turning them until they skin starts to bubble a little bit. Usually about 15-20 min on med-high or high… depends on the temp. outside. Delicious!!
WING TUESDAY!!
Supper: 
Snacks… Blue Diamond Almonds and Babybel Cheese – I scored these down at Kroger in Columbia. I was walking along and saw (what I thought was) these on close-out for 1.79. WOW?!? I thought I would try them out as one of our snacks. Turns out – they were mis-marked and should have been 5.99. What I can tell you is – at whatever the price, these things are PRETTY GOOD.