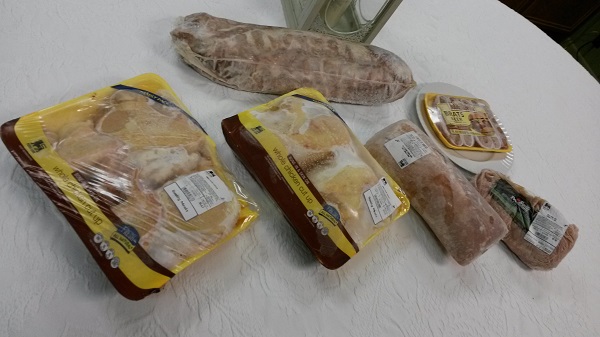 Smoke-A-Palooza 2017
My intention here was to fire up the smoker and do a bunch of meat for both us and my parents…
As you can see, I started off with 3 racks of ribs, 2 pork tenderloins, two whole chickens, some brats (for anyone wandering by during the day – something to snack on) and (not in the picture) I also prepped up 6 thick fish steaks.
For the ribs and pork tenderloins I used a rub I got some years back from a dear friend.
The Rub Recipe:
1 part Smoked Parika
1 part Salt
1 part Garlic Powder
1 part Sweetener (Brown Sugar/Splenda mix or powdered Splenda)
1 part Black Pepper
1 part Raspberry Chocolate coffee – plain grind
The 1 part will depend on how much rub you are making at one time. I think I used either a cup of half a cup and it was the perfect amount for everything I was doing. This trip through I used plain powdered Splenda – worked great.
I made a much smaller batch of the rub for Mom and Dad's stuff. He's supposed to be on a strict low sodium regime and she doesn't like things as spicy.
I covered the ribs and tenderloins in a plain yellow mustard coating – let it set up just a bit, maybe an hour or so in the fridge.
I had put them all on a rack covered in tin foil. So I could handle them easier…
Then I generously doused and rubbed all the pieces with the rub. One of the pork tenders and one rack of ribs was meant for Mom and Dad so I cut out all the salt in the rub, cut the hotter spice profile in half and added some extra Splenda / Brown sugar mix to their portion. Mine I did a little different.
The Brats didn't really need any treatment.
Here is the brine/marinade I made for the chicken and fish.
Brine recipe:
16 Cups water
3/4 Cup Kosher salt (I cut this number way down for this batch)
2/3 Cup powdered Splenda
2 Heads Garlic (I think I used minced garlic – if I recall correctly)
1/4 Cup Sage
1 Bay Leaf
1 TBSP Peppercorns
Cook on stove top 20 min. Take off and let cool (at least 2 hours). Don't put the chicken in hot – you will start the poaching process.
I mixed it up in a medium / tall pot. Before I dumped the chicken in the brine I dipped some of the mixture out for the fish (which I waited to brine until about 6 hours before I was ready to smoke). The chicken would eventually end up soaking for about 36 hours. 8 is plenty – but it was in the fridge. No biggie.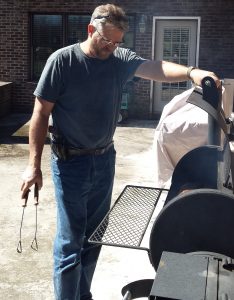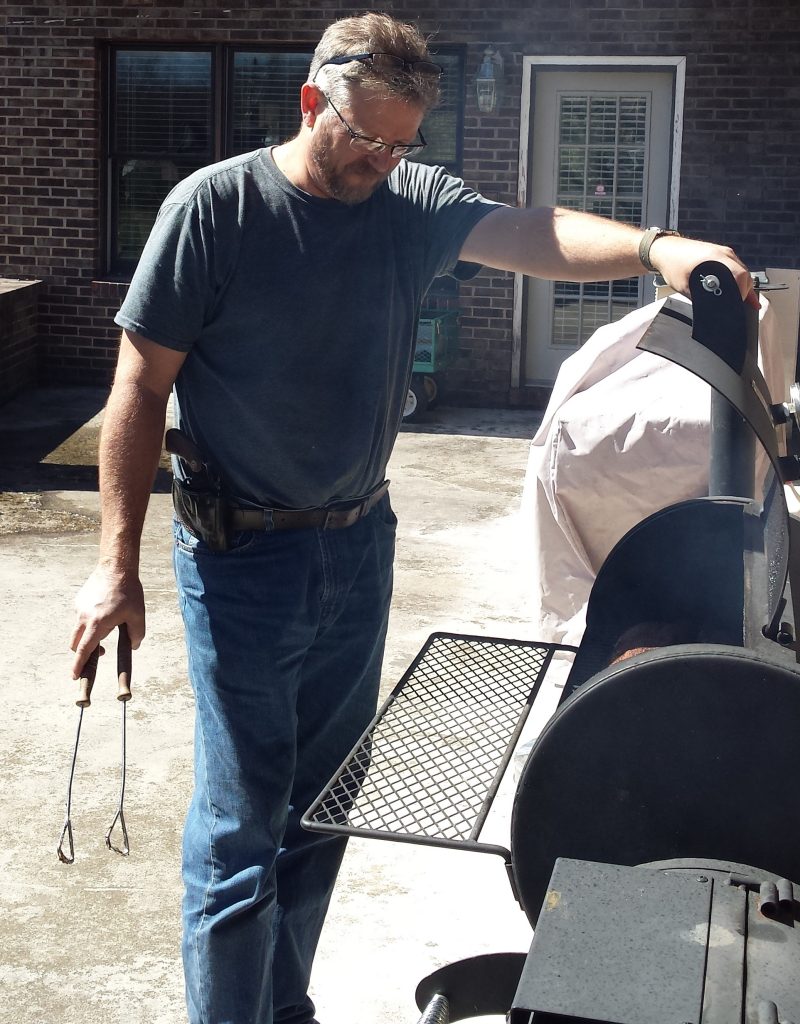 I had everything ready – then we had some serious storms in the forecast. I decided to leave everything as it was in the fridge overnight and try again the next morning. No problem.
The next morning I fired up the smoker. Good thing we waited, I had a hard time getting it to draft properly so I moved it out in the open and put a plain box fan about 4 feet away from the firebox on low – worked great. Got everything moving right along. I would have been drenched all day.
I put the 3 racks of Ribs, 2 Loins, and some Brats on first – trying to keep a consistent 225* heat profile. Turns out I didn't have room on the smoker for any of the Chicken.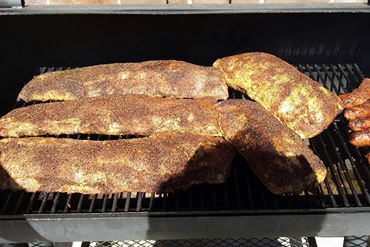 I wound up letting the ribs go about 8 hours on the grill. At the 3 hour mark I put them in a double foil wrap and dumped a bunch of Apple Cider Vinegar in with them. They were looking a little firm on the way in – the ACV started working that right out. When they came off the grill, I wasn't super impressed with the tenderness… so I put them in a 13×9″ metal baking pan – poured all the juice from the tin foil over them. I covered them with the same foil and stuck them in the oven. I let them bake off at 250* for another 2 hours or so.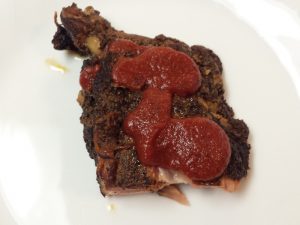 Here is what they turned out like…
This particular pic was from a "Rib Snack" about 10:30 one day… YUM!!
Psssttt –  That sauce is my very own LOW CARB BBQ Sauce.
I did much the same with the Pork Loins but not as long. Same grill – same temp, at the 3 hour mark I took them off, double foil wrapped them (if you don't do this – you almost always puncture the foil and lose all the juice), then I added plenty of ACV to them as well. At 5 hours I took them off and let them rest a while. Ready to serve – WHOA!! Good stuff.
Here's a shot of the Pork Loin done… nice smoke ring – huh??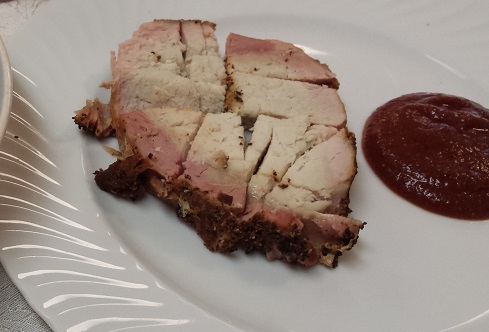 The Brats really didn't take that long – and they didn't last long afterward either. The first pack was gone really quick. Myself, Arlyne, Dad and couple of workers at the shop – POOF. Gone. I sent Arlyne down to the store for a couple more packs – why not?? I was gonna' be here anyway. The next two packs didn't last long either… anyone within "smell range" had one!!
In the space on the smoker grill where the Brats had been – I put the fish. I did very little to them other than the marinade. A light, quick coating of Olive Oil, a light (and I mean LIGHT) dusting of Tony Chachere's Creole Seasoning and on they went… for about an hour – 1 1/2 hour. Depends on the size what they look like. I did them in 2 batches of 3. My stainless fish rack is kinda' small. Plus – I really didn't have much room left on the grill surface.
Here's what the fish looks like as starter for Fish Tacos… this was 1/2 of one filet (maybe not even that much?).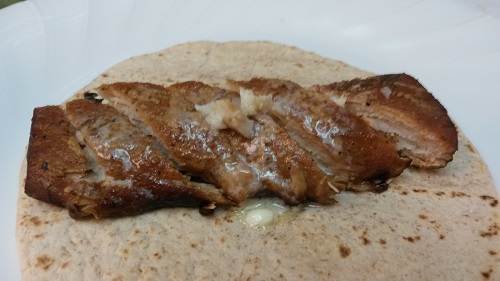 The flavor of the fish was just UNREAL GOOD.
Here is another shot of a half rack of the ribs… (this is making my mouth water all over again). Writing this crazy blog might not have been such a good idea. Ha Ha!!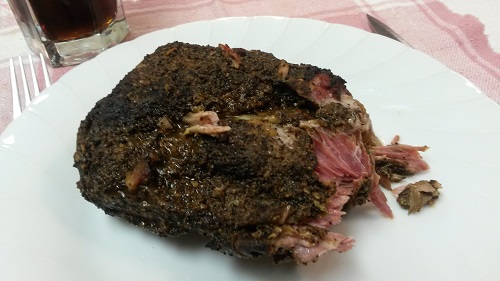 Here's a "during" shot of the same half-rack after I got into it for a minute… SERIOUSLY GOOD STUFF.
PRO TIP: This had all been done at once… These ribs have set finished in the fridge for at least 2 days. I cut out what I wanted for lunch. I dded the ribs and plenty of the juice/renderings to a plain sauce pan – threw it in the over for about 20-25 min at 250*. Just gently bringing it up to a comfortable temp. STUNNINGLY GOOD.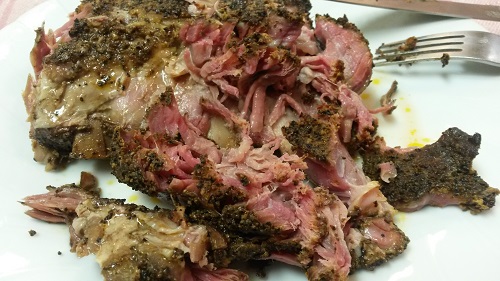 A few quick notes…
I have used the above rub, off and on for a few years. I'm going to experiment with a little more of a "Cajun twist" and several other sweeteners. For instance, how about dousing a rack of ribs with a No Sugar Maple Syrup? Or the Sugar Free Honey Substitute from Netrition.com? I'm also going to toy with some other sweeteners in the actual rub. One never knows, I might find something I like better.
The Chicken didn't ever make it onto the smoker. I'll be smoking again soon. I'll include Chicken… and wings… probably some fish. Ha Ha – you get the idea.
BTW- I used Apple wood and some commercial hardwood chips in a smoker box to get started. Once everything is in foil, wood choice doesn't matter that much. I finished with some Oak – I think?
I forgot to mention – towards the end, when I had some space I smoked off a pan of Roma Tomatoes and a couple of Onions. I made a Smoked Tomato and Onion salad dressing… I'll share the recipe in another post soon. The veggies carry the smoke flavor way better than you might think. Pretty awesome.
I did bake the Chicken off in the oven the other day. It turned out great. I cleaned it all. I'll use the breasts for salads… maybe some Chicken Salad?? I've got a killer recipe for that. Mom says it's the best one she's ever tasted. I'll post it soon and let you decide.
I also cleaned all the leg and thigh meat and minced it down. It's in the fridge as I write this – I'm plotting some VERY LOW CARB "Boneless Buffalo Wing nuggets" in the deep fryer soon… I can't WAIT!!
See you soon!!