5 Minute Guacamole (on a Bunless Egg Sandwich)
So I woke up the other day and I'm was thinking about doing a bunless egg sandwich, I kind of had a taste for the Guacamole on there (as shown in the video). However, I was not at all excited about prepping a full batch of Guacamole for one of two bunless egg sandwiches – BLAH!!
Then I got to thinking – "I have a couple of Avocados that need to be used…" – and… "I have about half a container of fresh Pico in the fridge…"
My "thinker got rolling" – now go with me here…
This Pico, from Pancho's in Spring Hill, TN – has a very similar flavor profile as the spicing of some Guacamole recipes… except that it's fresh (unlike spice packets).
It has a little onion (not too much – that can get "carby"), a little tomato (same issue – be careful), and plenty of lime. There is a little cilantro in there, which I wouldn't normally put in Guacamole – AND none of the prep time. Just dump it in. Let's try this…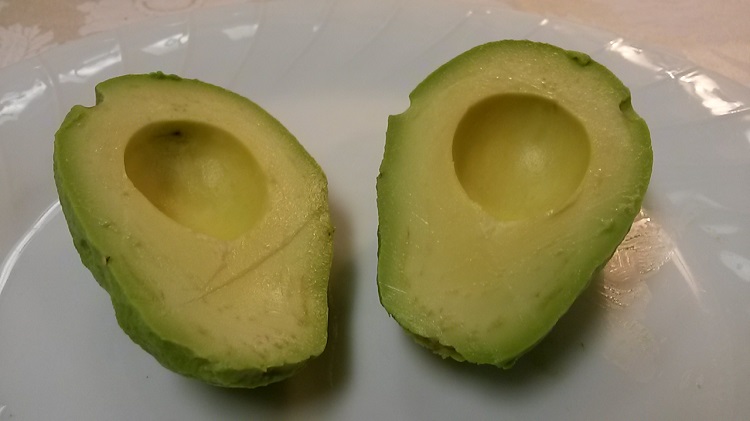 I dressed my 3 Avocados – quick!! I added some of the Pico (as show in the pics) to the Avocados in my little food chopper – and BOOM!!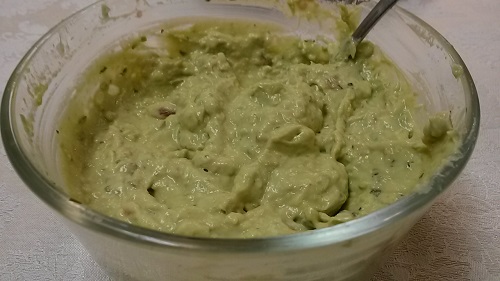 5 minutes or less – I had a LEGIT Guacamole. First thing in the morning. The profile wasn't perfect, so I added some powdered garlic and more lime juice… and we were OFF!! This is gonna' be my new "quickie" Guacamole!!
Bunless Egg Sandwich
(Not my recipe – but we've used it a few times…)
A look at our eggs "in process". We use eggs from our Americauna hens. They are a little smaller – just the right size right for the rings.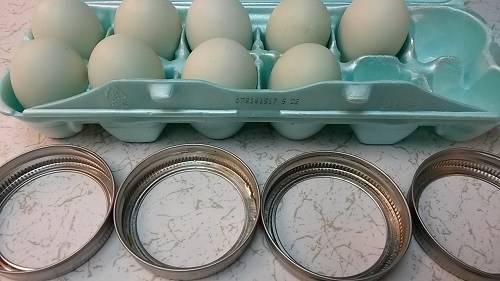 Our finished product – real food, real pics, real life…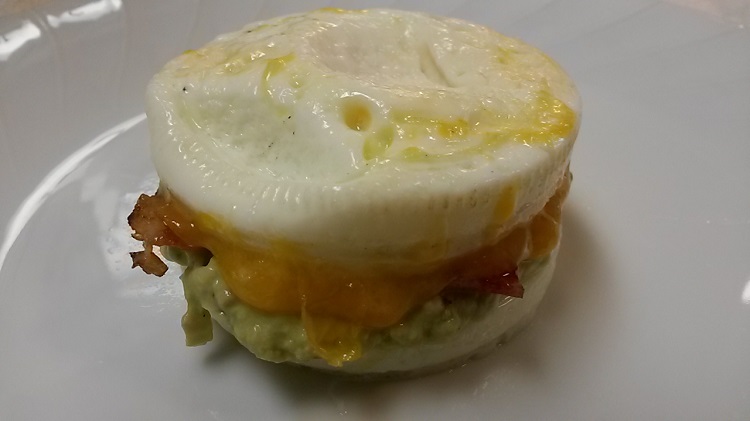 Here are some thoughts on this recipe – it is NOT – BY ANY STRETCH, a "finger food". We like it. It looks good. It tastes good. However, plan on using a knife and fork. This is the difference between "virtual reality" and REALITY. Enjoy.
Pro Tip: This recipe made plenty of Guacamole – note the Guacamole added to the Smoked Fish Taco below – wrapped in a Mission brand Low Carb Tortilla. All for a grand total of less than 5 net grams of Carbs… and FLAVOR – WHOA!!