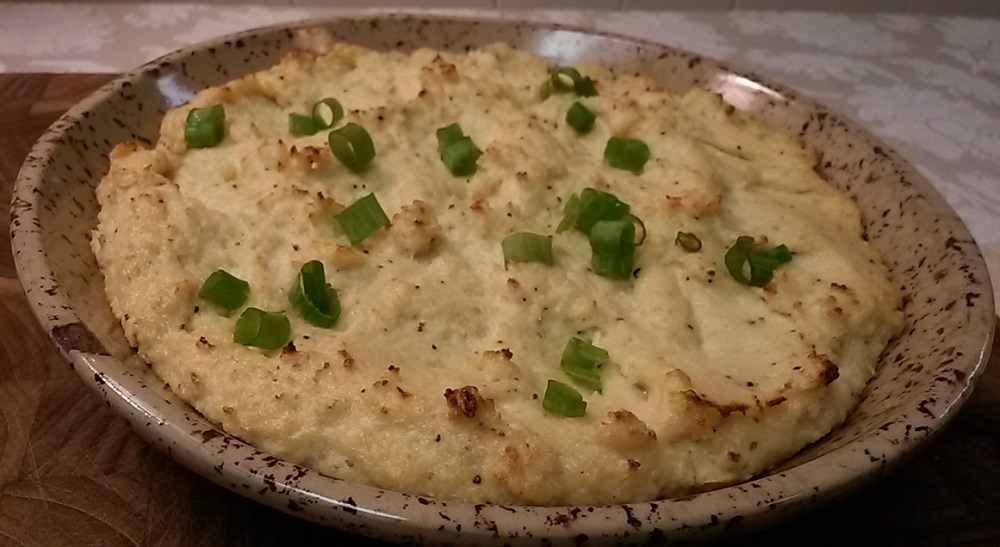 Twice Baked Cauliflower Mashers
For this I went a little bit of a "non-traditional" route…
I did the Cauliflower as a stir fried Riced Cauliflower first. This will take a lot of that moisture out of the Cauliflower. Once I got the moisture out, my thought was to then go back and add in the things for taste and body.
I started with a whole fresh head of Cauliflower. I saved two thick steaks out of the middle for a blackened recipe tomorrow. I riced the rest in a small food processor. I stir fried it in some Kerry Gold butter, Salt, Pepper and a little Garlic Powder. I also used just a little Rice Vinegar in the stir fry. I used just enough to start muting the heavy fresh Cauliflower notes.
Once I started getting the browned, fried starts – I took it off and put it in a deep mixing bowl. I added about 4 oz softened Cream Cheese, 2-3 oz Mozzarella, some Kerry Gold butter and 2 T (heaping) of Mayo in… I used a stick blender to get this to the right consistency. Keep working it until you get a consistency you like.
I baked it for 20 min @ 350* and broiled it for 2 min at the end. It gave the peaks a nice browning and some texture.
I was shooting for something tasty, with a better texture… more like a twice baked masher should be… not a mushy runny Fauxtato mixture. This was a HUGE WIN.
This is BY FAR my favorite Mashed Cauliflower recipe (for now).
(My own creation – BTW)
Keto wisely my friends!!