The Best Low Carb Bread – EVER!!
This gem of a meal was a couple of slices of Low Carb Almond Bread seared off in a buttered skillet. A smear of our Low Carb Creamy Horsey Sauce topped off with an egg, some Pepper and Scallions. This is very quick, easy and 5 star TASTY!!
I had the Bread made up and in a Tupperware container in the fridge. I did the egg in the microwave. The Horsey sauce was made a couple of days ago (and very quick – even then). Searing the bread off in butter took longer than anything (maybe a minute??). The whole process was done in less than 5 minutes.
A while back several of us were debating the merits of "cheat meals", "cheat days" and "carb cycling"… I guess I got sucked into the wrong train of thought. I am wholly against such ideas. There are always other ways to go about results. I guess it boils down to one simple idea. We were asking the wrong question…
Why would I ever want to go back? Why would I want to eat anything but the way I do? In the event there is something outside my current set of standards – there is most often a creative way to get there.
I have tried a lot of Low Carb breads, tortillas, recipes and substitutes. I have a few very good – "Go to" Low Carb / Keto "bread" recipes. However, this is FAR AND AWAY the best Low Carb Bread – EVER!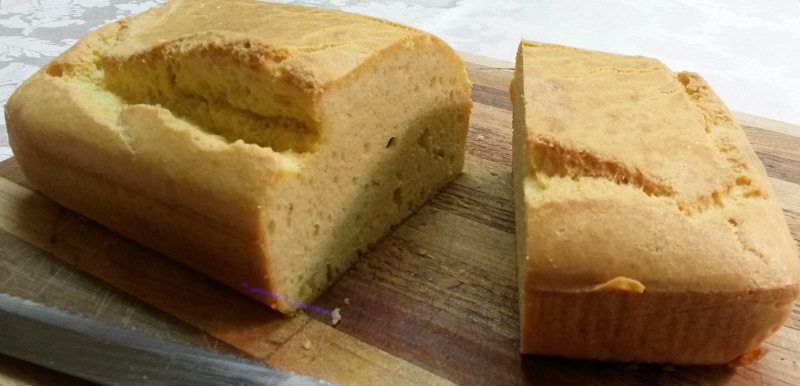 The Best Low Carb Bread – EVER
Best Bread Recipe
Ingredients:
1/2 C Melted Butter
2 T Coconut Oil
7 eggs (I used 8 – a few were small. They were our farm eggs)
1 t Baking Powder
2 C Almond Flour
1/2 t Xanthan gum
1/2 t Salt
6 drops QuickSweet
The above is a great version. It works really good for searing or in another recipe. However…
I highly encourage some creativity with a flavor profile for your bread and going all the way with it.
For instance – Garlic powder, Rosemary and Thyme?? Or Cheddar…
Or Cinnamon, Pumpkin Spice and QuickSweet.
Directions:
Preheat oven to 350*
Beat Eggs on high a full minute (or more?), add Coconut oil and melted butter – beat another minute.
Add additional ingredients and 1/2 the Almond flour – continue beating – add last half of the Almond flour. Continue beating. It will be thick.
Scrape into loaf pan lined with parchment paper. A quick shot of cooking spray on the bottom and sides won't hurt a thing either.
Bake 50 – 60 minutes. I have found 45 minutes wasn't even close to enough bake time. Mine turns out done and a nice medium color at 55 minutes.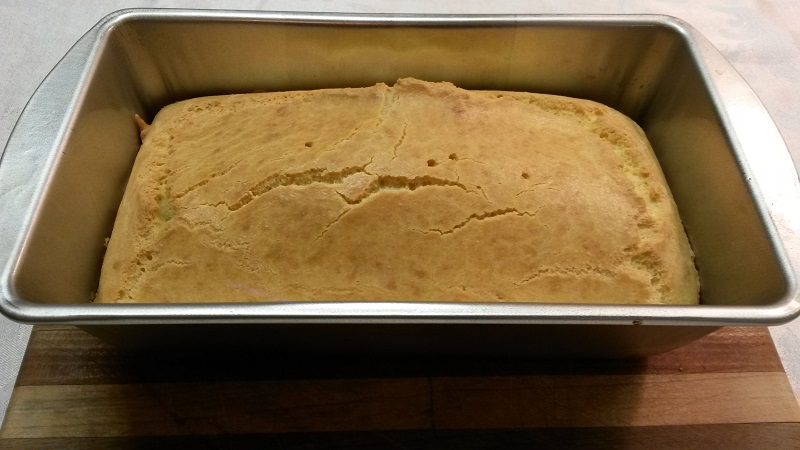 Let stand a few minutes. Carefully pull parchment sides up. Gently remove loaf – it should come out with little coaxing. Let cool – cut with bread knife. It will be soft, moist, warm and have an INCREDIBLE bread texture. Enjoy.
I have been able to store in Tupperware for a few days while using it – but I have no clue how long it will last. Because it never makes it long enough to find out. It's usually gone in a few days.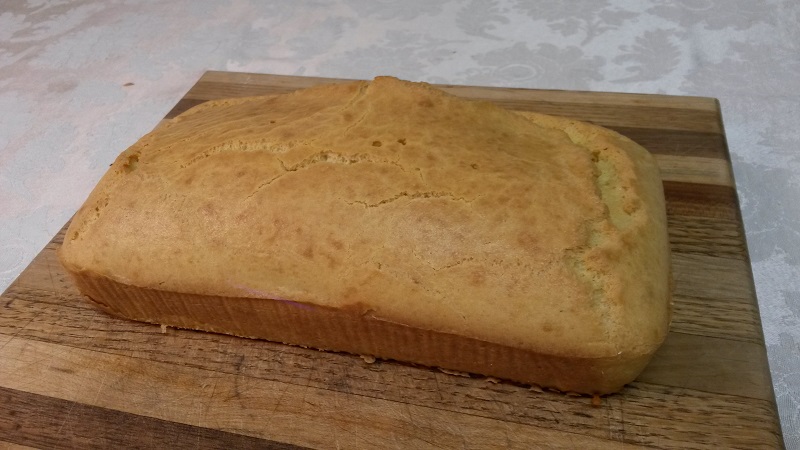 Keto wisely my friends!!