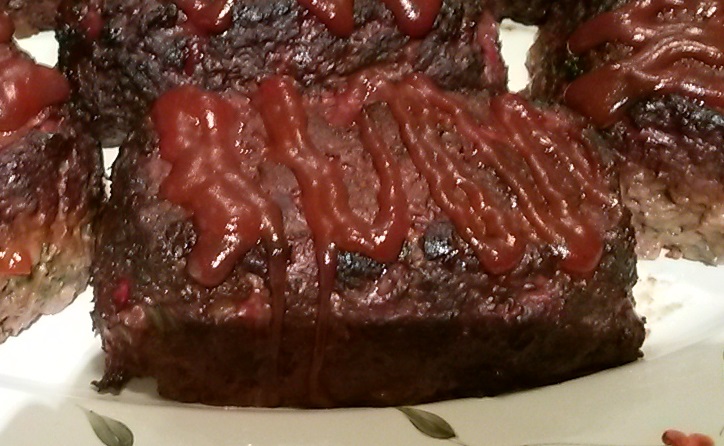 Smoked Meat Loaf – Oh my…
So this past weekend we had a lot of guests on kind of a short notice – so I swung into action and made a bunch of these Smoked Meat Loaves (16 to be exact) and a Smoked Pork Shoulder (which means easy, delicious meals and lots of pulled pork sandwiches).
Here is my recipe for a smaller "home brew" batch…
Smoked Meat Loaf Recipe
1.5 lbs of Eye of Round, Sirloin, Inside Round or similar beef cut – custom grind
1.5 lbs of Pork shoulder – trimmed and ground (twice)
1/2 C Celery and Onion mixture sauteed in Butter, Garlic and Oregano
1/2 C finely diced Orange Pepper (NOT A HOT PEPPER – just plain Orange Bell Pepper)
1 T Worcestershire sauce (I use the 40% Low Sodium version)
Kosher salt and Pepper to taste
2 T of Tom's Low Carb Rub
1 C finely ground plain Pork Rinds… (not flavored)
2 eggs
1/4 – 1/2 C Nature's Hollow Sugar Free Honey
Heinz Reduced Sugar Katsup (about 1 gram per 1 T) as a glaze
I ran both meats through a Lem brand "Prosumer" Meat grinder (twice). Just glorious. Then I mixed all the ingredients as noted. I used a tin foil loaf pan and gave it a quick shot of cooking spray before forming loaves. Form and press out (carefully). Put on some kind of smoking rack and put in the smoker at 250 degrees for 2 hours.
For the last 1/2 hour – I added some Katsup on the top as a glaze…
Let them cool and store – or not…
Slice off nice thick hunks – microwave about 1 minute per loaf and then and give each slice a quick sear on a grill, in a pan or on a flat top (preferably in butter). Oh my… LOW CARB FLAVOR MADNESS!!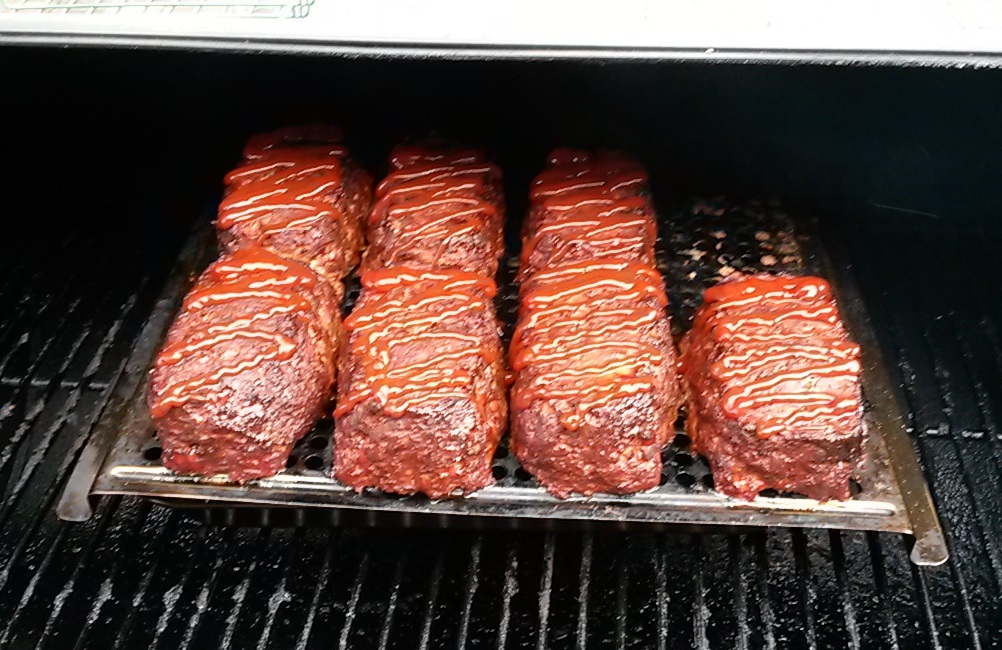 Pro Tips: here are a few short cut ideas…
If I had limited items available to me – I might try 2 lbs of regular ground beef and 1 lb of packaged mild sausage.
If I didn't have access to a wood smoker – I would pick up a cheap, used electric smoker. It will work great for a lot of stuff. In fact, I am going to pick one up for all kinds of stuff I do like this. Great for short, quick smoke sessions. If I couldn't do any of this – skip it and add 1 T of liquid smoke and just bake it in the oven. Same time – same temp.
Tom's Low Carb Dry Rub
3 1/2 t Truvia
7 t Chili Powder
3 t Onion Powder
3 t Garlic Powder
3 t Oregano
1 T Black Pepper
1 T Kosher Salt
2 t Paprika
Whisk this rub thoroughly – then use it on EVERYTHING!!
Enjoy.